Study at
Laksamana
A premier higher education
institution offering a range of
national and UK qualifications.
University of Chester
Degree Programmes
Pearson
BTEC Programmes
Kensington College
of Business (KCB)
Programmes
Partnership of Abdul Razak Holdings(Brunei) &
Kensington College of Business, London
Full UK Degree
Programmes
offered for the
first time
LCB offers University of Chester
degree programmes that are taught in
Brunei.
Highly integrated
programmes
LCB offers a range of qualifications that
are highly integrated. Students can
easily advance from one programme to
the next.
Higher Education
Experience
LCB has been ten years in the making
of a high quality educational institution
providing exceptional learning
experiences to Brunei students.
Stepping stones
LCB has links to industry for
employment as well as links to
institutions of higher learning that readily
accept LCB graduates.
Why Laksamana?
A modern higher education institution offering high quality UK and national qualifications in an environment that optimizes opportunities for individual learning.
Top Class Facilities
LCB is one of the most modern and
best equipped higher education
institutions in Brunei. The college has
a great library, fast wifi, fantastic IT
labs and well-appointed classrooms.
Student facilities include a canteen
and student lounge. read more
Employability
The college offers help and support
with academic planning that is
designed to maximise your
employment opportunties. LCB links
to industry ensure that students are
taught skills and knowledge that are
in high demand in Brunei.
read more
UK Qualifications
You will have the opportunity to gain a
high quality and highly regarded UK
degree from the University of Chester
as well as highly regarded
qualifications from the Kensingtom
College of Business.
read more
Individualised Learning
Teaching staff are dedicated to
helping every student to be the best
they can be. You will receive
unparalleled support and quality
professional teaching to help you
achieve your academic goals.
read more
Testimonials

Nurul Iqamaidahtul Haji Muamad
2016 Bachelor of Business Studies
graduate. "I enjoy Laksamana College very much
because it is a friendly and supportive
environment. I was so happy to graduate this
year! My experience at Laksamana has
inspired me to go on with further study. " "I was worried about being able to study at a
high level, but after a short time I found that I
was able to do very well because my teachers
at Laksmana were very friendly and helpful. I
will now graduate this year " "I am an HND student studying in the IT
department. I am enjoying learning about server
management and networking. I have learned a
lot and I think that what I learn at Laksamana
will be very good for my future"
Nor Emie Amalina Hj Alias
2016 Business Studies Student
Muhammad Arif Hepnie
2016 Computing and Systems
Development student
Latest News
IT Facilities Refreshed
LCB has upgraded to the latest IT lab facilities and
broadband wifi access for all students. The use of IT
is integrated into LCB programmes at all levels.
Optimal Learning Environments
Lecture theatres, laboratories and tutorial rooms are
newly appointed and of the highest standard.
Library Extended
The LCB library is modern, comprehensive and
stocked with the best textbooks for all courses
taught at the college. It has recently been extended
to a second floor.


Our Services
Testimonials
Contact Us
25-02-2016
I enjoy Laksamana College very much because
it is a friendly and supportive environment. I was
so happy to graduate this year! My experience at
Laksamana has inspired me to go on with further
study.
Nurul Iqamaiedahtul Hj Muamad
•
Applying
•
Student Finance
•
Student Support
•
Entrance requirements
•
2016 Academic Timetable
Phone

: +673 223 8816 /18
enquiries@laksamanacollege.edu.bn
Address

: Roof Top, Plaza Abdul
Razak, Jalan Laksamana Abdul
Razak, Bandar Seri Begawan,
Brunei






Our mission is to provide
the best possible education
for every individual student
Partnership of Abdul Razak Holdings & Kensington College of Business, London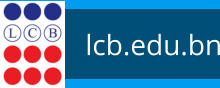 Laksamana
College of Business